BodyLove
FALL IN LOVE WITH YOUR BODY
October 7 – 27, 2019
I believe everything in life is easier to manage when we care for our bodies and brains: Sleep, nutrition and sweat.
But we often get stuck.
Or bored.
So we don't make progress. And that's frustrating.
When that happens, it's time to try something new. That's where this challenge comes in. Right before we hit the coldest months and we're transitioning into a new season is a great time to lay down a new habit. For your body and mind. For winter sanity.
Loving your body means being tuned into what you need. It means care and rest, yes. But it also needs to involve movement and the right fuel.
I read a lot of personal development books, and it always comes back to this: The most satisfied, happy people have made daily movement a habit. And once it's have a habit, doing right by your body and mind takes less discipline.
In the bestselling book, "The ONE Thing", I learned that habit formation takes a bit longer than the 21 days that has been in self-help circles for years. Modern science shows that it takes time to develop a habit, and 66 days was the 'sweet spot' found by one research study at the University College of London. So 21 days is a kickstart. It's the spark to set you on the path.
"Success is actually a short race—a sprint fueled by discipline just long enough for habit to kick in and take over."
― Gary Keller, The ONE Thing: The Surprisingly Simple Truth Behind Extraordinary Results
The challenge: Move every day for 21 days. AND if you do a Beachbody workout (hundreds to choose from, including yoga) five days per week, and log it in our team app, you'll be eligible to win a super cool prize from me.
There are programs with workout calendars you can follow, for example LIIFT4 is a great program that combines simple lifting and cardio that follows a 4-day per week schedule and added a day of yoga.
These workout calendars are plans. That means all you have to do is show up, press 'play,' and do the work!
I will provide a free, private app for you to log your workouts and get support. I will post motivational thoughts, quotes, ideas and my own sweaty selfies right alongside you.
You will get access to streaming home workouts for a year, along with a 30-day trial of Shakeology. You can use the home workouts to fill in the gaps, or as your primary workout source.
What about food? Your package will also come with Portion Fix containers that you can use with any Beachbody program's nutrition guide. What I like about these is that you are counting portions of the right foods, rather than only counting calories. It's a commitment, and it's more work than eating whatever you want — but if weight loss is one of your goals, this will ensure you're well-nourished as you shed pounds.
You can keep track with the Beachbody Nutrition app.
How to sign up:
Sign up using this link and purchase the recommended Beachbody challenge pack, which gives you access to hundreds of streaming workouts, and the complete package of nutrition, movement, and support (hello, me!) You'll need to choose your flavor of Shakeology, and if you want vegan or regular. (Go vegan if you have any dairy issues.)
Email me to alert me you've signed up. I will add you to my private Facebook group and private workout tracking app, and you will be inaugurated henceforth (doesn't that sound official? Basically I will give you instructions and guidance, I got you!).
Plan your personal schedule. I can help you choose a program, and you can combine it with your own walking, yoga, tai chi, skiing, spin— WHATEVER other activities you'd like to do for the next 21 days. No burnout here, rest days are key! But you can do active recovery like stretching and yoga or gentle movement and still log that as your workout.
What's included?
Exercise, nutrition education and support:
Exercise
A year subscription to Beachbody On Demand (streaming to any device or computer)
Workout plans
Workout guidance
The My Challenge Tracker app access to privately track your progress and workouts
Access to my private Basement Queens Team page where I stay connected to my customers, and frequently host exercise challenges and give prizes
Nutrition
A simple portion system to make sure you're eating enough (Seriously, most people can't eat all the food. When you eat right, you are satisifed.)
30 days of Shakeology, a superfood supplement that I love (used to be a skeptic of, too)
A Shakeology shaker cup
Support
Me as your coach and mentor
My private Facebook group with a supportive, positive community
Ongoing support and motivation via live videos and educational, motivational posts
What's the cost?
If you're new to our team(s) and to Beachbody, your cost will be $160:
Your first 30-day supply of vegan Shakeology
12 months of streaming access to world-class Beachbody programs, including:
– Hundreds of streaming workouts
– Step-by-step program guides, workout calendars, expert advice, and more
Set of 7 Portion-Control Containers
Shakeology Shaker Cup
(Save over $115 compared to buying each item separately!)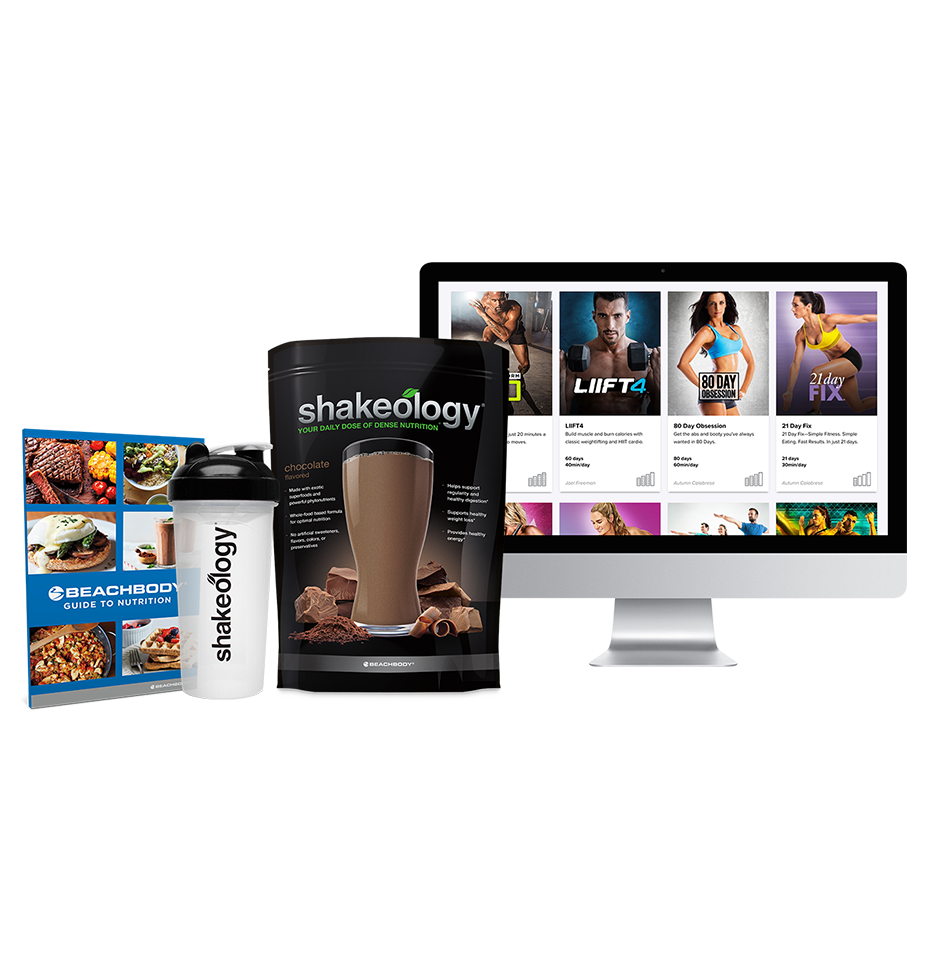 Any additional payments would simply be the next month of Shakeology at $129.95 (or less; ask us about getting a discount with a coach membership… no 'coaching' required.) If you only want the first month of Shakeology that's included in the sign-up cost, simply cancel your Shakeology subscription before it ships. Easy to do right from your Team Beachbody account page.
It's true: You can't exercise your way out of a bad diet.
FAQ
Should I do this if I already have a gym membership?
Yes. You can still go to the gym! Find yourself a little spot, put in your ear buds and prop your phone somewhere and you can do any of these workouts anywhere. Some require free weights.
Do I have to buy the Beachbody Challenge Pack?
Yes. To be in this challenge, and on my team, you do. The benefit goes both ways: I'm recommending their products to you because I know they work— I use them personally, and they are an awesome addition to any workout schedule / plan / gym.
What comes in the Challenge Pack?
See above. And you can keep the Shakeology coming for the first 2 or 3 months, or you can cancel after the initial purchase and not pay anything additional for the challenge._
I'm scared I will fail. What happens if I don't complete 21 days successfully?
Life happens! Being afraid of failure is normal. I'm here to support you in creating a new habit. I'm not going to shame anyone or make a big deal if anyone isn't upholding the commitment, or runs into unforeseen challenges. You do your best, and I do mine. That's it! This is all about positivity, community and support.
Am I going to have to spend a lot of money?
The total cost is $160. For what you get, it's an incredible value and will allow you to have much greater flexibility in what and when you exercise. And there are nutrition planning tools you can use to help you make better choices. The package comes with 30 days of Shakeology for you to try, too. If you like it, you can keep the auto-ship order, or if not, you can cancel it.
I already run / swim / lift / bike, etc. How will this fit into my current exercise?
I'll just say this: I ran my fastest 10k one spring after doing Beachbody programs for the winter in combination with running about two times per week. Cross-training can only make you stronger! Running more doesn't necessarily make you a stronger runner. Plus, you get to decide when, what and how you use the Beachbody workouts within your current schedule. Depending on your goals, I can help you choose a program and chat about how it can fit into what you're doing.
I currently am doing nothing. Is this going to break me?
No, absolutely not. I will help you choose a program and create a plan that works to ease you into daily movement. It could look like this: Monday: yoga, Tuesday: 20 minute cardio, Wednesday: A walk outside, Thursday: 20 minute strength, Friday: 10 minute core workout, Saturday: 20 minute cardio, Sunday: A treadmill walk. See? Doable. Daily movement!
Any other questions? Just ask.
---
Sign up here!
Sign up using this link and purchase the recommended Beachbody challenge pack, which gives you access to hundreds of streaming workouts, and the complete package of nutrition, movement, and support (hello, me!) You'll need to choose your flavor of Shakeology, and if you want vegan or regular. (Go vegan if you have any dairy issues.) You'll also need to choose between the 30 serving bag or the 24 single-serving packets. Packets are great if you're always on the go.
Let's go!
It's not selfish. It's truly the core of our being: We need to put our health first.